If you've been following me on instagram, you've seen allllll the cookies I've been baking lately. I love cookies, and I will not give them up just because wheat makes me sick and sugar give me zits. So, here we go. Deliciousness!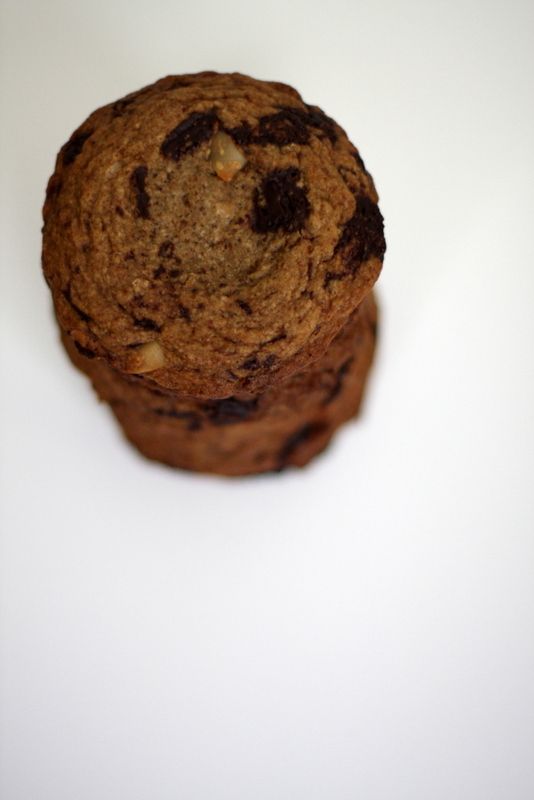 Ingredients:
1 cup browned butter, at room temp *see notes!
(or 2 sticks unsalted butter, at room temp)
2 cups gluten free flour **see notes!
1 bar of the darkest dark chocolate you like, chopped
*You need to make the brown butter beforehand. I use
Plugra or Kerrygold unsalted butter.
It needs to solidify again before you can bake with it. The best way to do this is to
follow these instructions for making brown butter.
The brown butter gives these cookies a depth that is just amazing. It goes
really
well with the coconut sugar. If you want, you can substitute regular butter. But try the brown, it's soooooo worth the extra time!
**I tested this recipe with two different gluten free flours: the
Cup for Cup
brand, and
almond flour
from
Digestive Wellness
. I like the Cup for Cup the best. I found it at Whole Foods. The almond flour is okay, but I like the texture of the other better. The almond flour you can get at the grocery store (Bob's Red Mill) isn't ground finely enough for baking. Believe me, I've tried it and the texture is strange and very un-cookie like. It's better suited to savory dishes.
Brown your butter, and let it cool on the counter. It will take a few hours, or overnight. I like to keep it in a glass measuring cup, stirring every so often so that the milk solids get distributed evenly.
Measure out your dry ingredients into a medium bowl and set aside.
Put the browned butter and the coconut sugar into your stand mixer's work bowl. Fitted with the paddle attachment, cream the butter and sugar on high for 3 minutes.
Add the egg, stir to combine, then add the other yolk. Once it's incorporated, add the vanilla. Beat on high for 5 minutes.
Scrape down the sides of the bowl and the paddle. Add the dry ingredients and mix on low until just combined. Add the chocolate chunks (and coconut) and mix until just combined.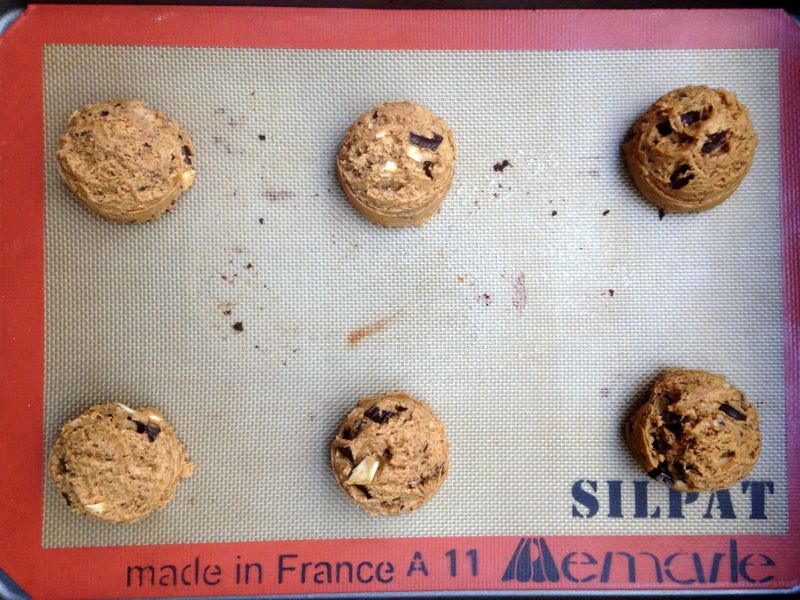 Scoop out using a blue handled scoop or a 1/3 cup measuring cup. Place on a silpat or parchment paper lined cookie sheet, 6 to a pan. Bake for 10-14 minutes, the edges will be browned and the middle will look set.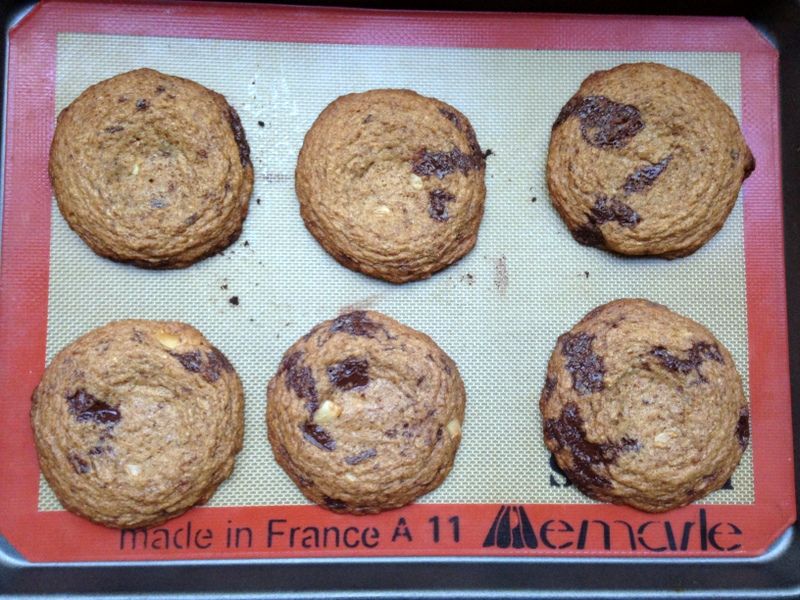 These cookies are darker than normal cookies. It's the coconut sugar. They will look a lot browner than normal cookies.
Makes 10 large cookies, with a little leftover cookie dough for you to nom on.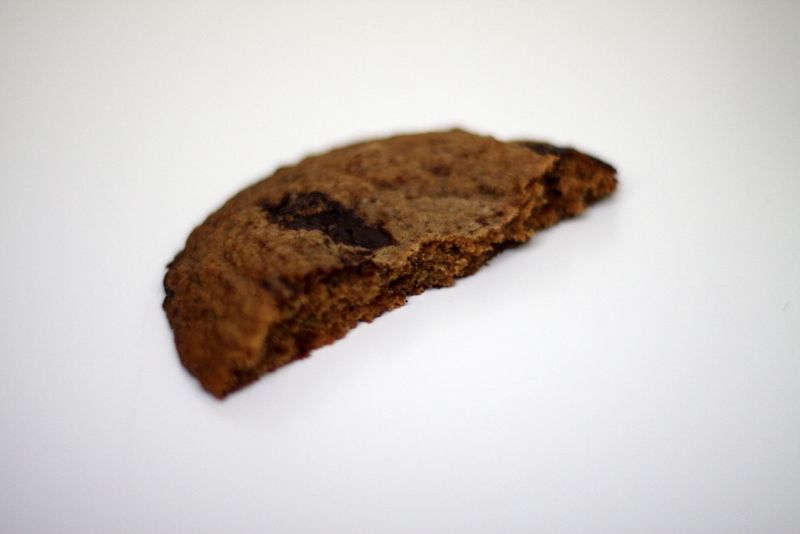 Most of the batches I made, the cookies were too fragile and crumbly. They were good, but I had to bake them in mini pie pans or they would spreaaaad out like crazy. Spread out they were too thin, they tasted much better when they were thicker. I didn't want to saddle you guys with having to bake cookies in a special pan, so I kept working. And hooooooray!
So get out your mixer and bake some cookies!
My favorite chocolate and coconut chips to use: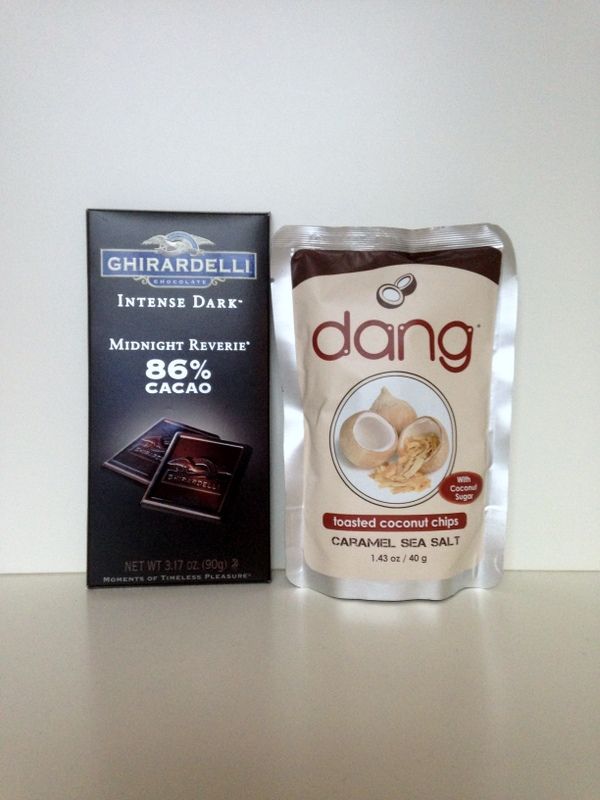 86% chocolate is the darkest I can find at Whole Foods. I loooooove it. It's so smooth for such a high cocoa content! The
darker the chocolate, the less the sugar.
I'll have a square or 2 of this after dinner sometimes. It totally satisfies my chocolate cravings.
Dang coconut chips are delicious. I found them at Safeway. I used to buy the trader joe's brand, but it has sugar. The Dang ones don't!