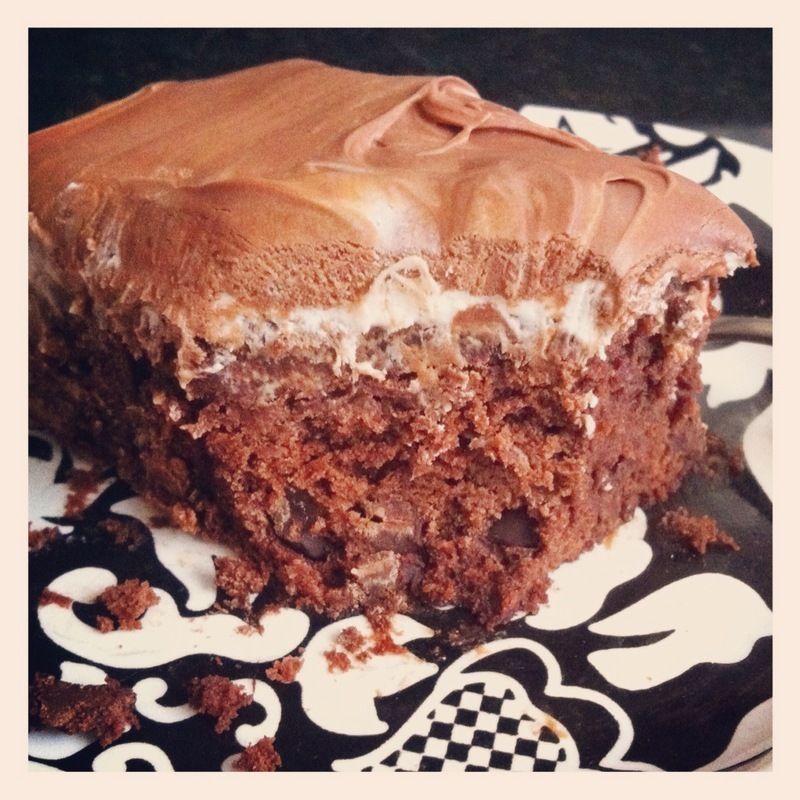 It was late Sunday afternoon and I was craving chocolate. Chocolate with chocolate chips covered in chocolate chocolateiness . I get this way once a month- but I rarely act on it. But this time, I had to. My life depended on it. The easiest and fastest way to get this intense chocolate fix is to make brownies. Growing up, my mom often made brownies after sunday dinner.
It made me nostalgic and homesick so I called my mom to tell her that I made brownies. And that I made shepherd's pie. Cause she would make that for sunday dinner too. I miss sunday dinners with my family.
I posted the above photo on Instagram and Facebook, and I got a number of you asking for the recipe.
I'll post it, but I have to warn you- it's so easy you're gonna think my baking skills are a hoax.
The best brownies ever:
(For a 9x13 pan)
2 bags Ghirardelli brand brownie mix, you know the huge box that they sell at Costco? Yeah, that one.
Follow the directions on the box, except DOUBLE the eggs. These make extremely gooey brownies that refuse to come out of the pan. So if you want them to cut nicely and come out of the pan, crack another egg in there. If you like them gooey, fine, but be warned- you'll end up eating them out of the pan.
Bake as directed. Cool totally and completely before frosting.
Cream Cheese Frosting:
1 pkg cream cheese, at room temp
6 TB butter, at room temp
2 cups powdered sugar
1 TB vanilla
1 1/2 TB heavy whip
Cream together cream cheese and butter. Add powdered sugar, one cup at a time. Add vanilla. Beat in heavy whip, then whip on high for 3 minutes.
Spread on brownies, lick the beaters and bowl clean. Set the frosted brownies in the fridge while you make the chocolate frosting.
Chocolate frosting:
1 stick butter, melted
2/3 cup cocoa
3 cups powdered sugar
1/3 cup milk
1 TB vanilla
Stir the cocoa into the melted butter. Alternately add the powdered sugar and the milk, starting with the sugar and ending with the milk. Add the vanilla. Whip on high until fluffy. Spread on top of the cream cheese frosted brownies. They end up kinda swirly, but I like it that way.
Cut them as big or as little as you want. Eat right away. Store in the fridge.
Let's say your husband hates chocolate, so making a 9x13 pan of them would be wasteful, but you need to have these brownies right away. Half this recipe and bake it in an 8x8 pan.
Your welcome.