Awhile ago, Lindsay loo asked me "why you not make doll for you yet?" So I did.
Meet Penelope.
I've been working on learning how to make more detailed doll clothes, and was frustrated with not having "anybody" to try them on. So making a doll for me to have hanging around makes sense, right? I mean, I get to keep a really cute doll and make lots of cute clothes for her and OMG I am totally living out some childhood dream. Good thing my husband dosen't mind.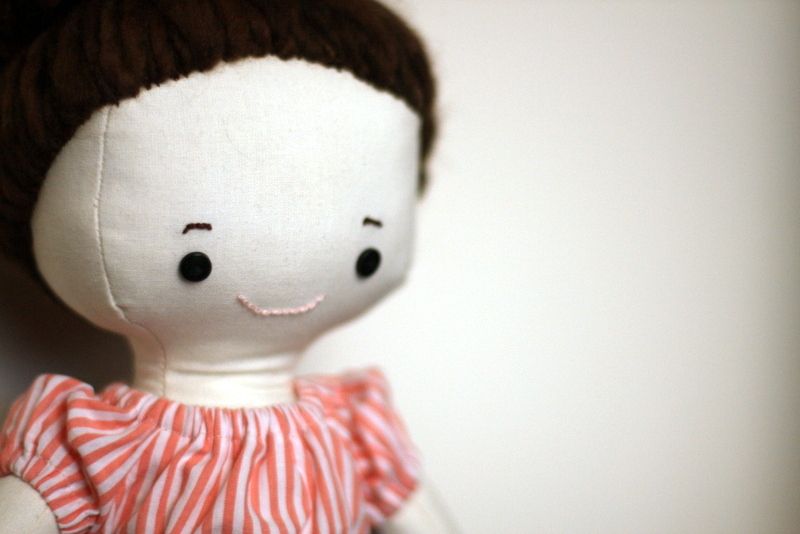 Looking at these photos of her- she totally looks like my grandma. Whoa.
I guess I should re-name her then.
Hello, Betty!
Aaaaaannnnnd her bun. Yes, that is the very popular top knot ballerina bun that is so very popular right now and is the hairstyle that I wear most days. I just HAD to figure out how to do it on a doll. It took me 2 days to figure out, and I practiced on a smaller doll first, before doing it on her with very expensive but oh so worth it hand-dyed yarn from a local yarn shop. Each strand of yarn is individually hand stitched on her head. It sounds so tedious, but it's actually kinda fun, and totally worth every minute.
She's a little top heavy, and that bun is as big as it looks. Damn cute, right?
I'm totally into peach right now, so I gave her a peachy striped peasant top and a grey paper bag skirt, and of course matchy peach shoes.
Fairly simple pesant top.
I tried to make a similar grey paper bag skirt for myself, like same fabric and everything, and failed. Failed so bad. BUT. I do have to say that it was totally the patterns fault- it was written wrong. It said to add 2 inches to your waist measurement, when it clearly needed DOUBLE your waist plus the 2 inches. But the large buttonholes for the tie are damn perfect, even though I can't get it over my hips. It might fit a broom.
Right before I went back home, I successfully made a paper bag skirt for myself. (from a different pattern) And it's gorgeous. It's a not so deep navy blue non corded corduroy, the drape is so fantastic and wonderfully unplanned- it was on sale so I bought it and I wanted a navy skirt so I used it and I couldn't have picked a better fabric. I'll have to take some photos.